HALL OF FAME INDUCTEES

2020
Hubert and Jo Ann Thomas, OT Farms

Fort Scott, KS
2020 KLBA Hall of Fame O.T. Farms-Hubert and Jo Ann Thomas
Hubert and Jo Ann Thomas, OT Farms, Fort Scott, Kansas, were inducted into the Kansas Limousin Breeders Association (KLBA) "Hall of Fame" Sunday, September 27 during the KLBA picnic. Their grandson, Zach Snyder, gave a warm tribute to his grandpa and grandma, Hubert and Jo Ann Thomas, as part of the presentation. He expressed his gratitude for their generosity and support as the grandchildren started showing Limousin cattle. Zach said, "Grandpa taught me that it would take a lot of hard work and dedication to be able to do well in the show ring." He went on to say that his grandpa was always at the side of the show ring, congratulating him no matter what the outcome was. Zach won the reserve grand champion Lim-Flex bull banner at the NALJA show in Grand Island, Nebraska. He said that all the hard work finally paid off. Hubert grew up on a farm near Fort Scott, Kansas. Three months after he married Jo Ann, Hubert was drafted into the Army. While he was stationed in Germany, Hubert contacted his dad and asked him to buy six white-face bred heifers so he would have a herd started when he returned back to the states after his service in Germany. By the early 1970s Hubert had several nice Simmental cows, but he switched to the Limousin breed, buying feeder calves in Parsons, Kansas. Hubert bought his first Limousin cow from JCL and she lived for 17 years! He then began actively going to Limousin sales, purchasing registered cows and heifers. Hubert bought his first registered bull from Tub Ratliff of Ratliff's Cherry Creek Farms in Westphalia, Kansas. In the late 1990s-2000s, he was responsible for getting his grandsons, Bart, Nathan and Drew Wright in Oklahoma, buying and showing Limousin cattle. He joined the Oklahoma Limousin Breeders Association at that time. Later, Hubert joined the Kansas Limousin Breeders Association, serving on their board of directors and the Heartland Limousin Association. In 2005, Hubert bought half-interest in a JCL bull named Pirelli. This bull won every show he was in, along with the 2006 National Show. Today, Hubert and Jo Ann continue to support their grandchildren; Drew Wright and Zach, Lucas and Ella Snyder as they raise and show Limousin cattle. Hubert has approximately 150 head of purebred and 100 head of commercial cattle. He sells Limousin bulls annually around the four-state area. Congratulations to the Thomas family upon their induction into the KLBA Hall of Fame!
---
2019
CHRIS AND KAREN CAMPBELL
Chris and Karen Campbell of Tonganoxie, Kansas, were inducted into the Kansas Limousin Breeders Association (KLBA) "Hall of Fame" on Sunday, May 31, 2020. This took place during the Kansas Junior Limousin Field Day at the Campbell farm.
The Campbell family got their start in the Limousin business many years ago when Marvin and Myrtle Jones of Tonganoxie took them under their wing. In a true circle of life fashion, the Campbells took Marvin and Myrtle's grandson, Adam, under their wing, taking him to cattle shows. The Jones' act of mentorship resulted in Chris being a member of the North American Limousin Foundation (NALF) since 1981. Karen has been actively involved in the state Limousin association as well, serving for 12 years as the junior advisor.
Chris always said that they raised three good kids because of cattle, but it's because of them that cattle are part of our lives. The three; David, Katie, and Kenny, stated that they owe where they are and their accomplishments in the show ring to their parents, who provided them the opportunity to travel to county state, regional and national shows. They fondly remember many early mornings, late nights, and cramped truck rides. They went on to say that "this breed is a family and we're grateful you allowed us to grow up in this family".
The most important lessons that the Campbell family has learned comes from loving cattle and passing that tradition on to fellow breeders and junior members.
---
2018
ROLF LIMOUSIN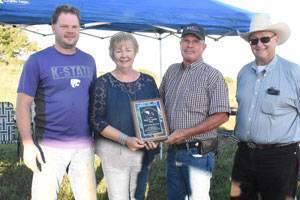 Walt and Jackie Rolf, Rolf Limousin of LeRoy, Kansas, were inducted into the Kansas Limousin Breeders Association (KLBA) "Hall of Fame" on Saturday, September 22, 2018. The ceremony took place during the Kansas social.
Rolf Limousin began in 1991 with the purchase of their first Limousin bull from Ratliff's Cherry Creek Farms. They were impressed with the calves and when their daughter, Megan, was old enough to show her first heifer, they returned to Ratliff's to purchase a show heifer. That first show heifer became the foundation for Rolf Limousin.
In subsequent years, more and more purebred cattle were added to the herd, bolstered by show animals each year and the calves they produced. In 2001 Megan bred and raised the Reserve Grand Champion bull at the All American Limousin Futurity in Louisville, Kentucky named LFRO Knockout.
While these animals formed the foundation of the herd, in the early 2000's, Walt and Jackie bought out Van Bohman's herd near Wichita, Kansas, VW Flint Hills Limousin. This herd included 50 cowls with 20 calves at side as well as COLE Magnum 15M. These animals were integrated into the herd along with a group of 20 cows from Montana purchased from Rob Matthews of Highlight Stock Farms.
After these additions, Rolf Limousin increased the use of AI and ET as well as purchasing Wulf's Nobel Prize 3861N, from Wulf Limousin of Morris, Minnesota. This bull became a popular AI sire within the breed.
Cattle from Rolf Limousin have been successfully exhibited at numerous shows and were sold to many buyers throughout the country at the Iow a Beef Expo, and the Missouri and Kansas State Sales. These sales complemented their locker beef business and the sale of bulls to local commercial cattlemen.
In 2017, Walt and Jackie made the difficult decision to cut back their herd and enjoy retirement. They currently maintain a herd of approximately 45 cows, and they use their extra grassland to background the calves and sell them after 90 days of grazing.
---
2017
JERRY AND PAT MEEK
Jerry and Pat Meek, Pine Tree Acres Limousin of Parker, Kansas were inducted into the Kansas Limousin Breeders Association "Hall of Fame" at their annual meeting in El Dorado March 10, 2017.
They got started raising Limousin cattle in the early 1980's when they borrowed a Limousin bull from a good friend, John Pattimore, to breed some dairy cross cows. They liked the muscle of the calves to much that they decided to start their own Limousin herd. In the summer of 1986, Pat attended the dispersal of Triple C Limousin (Mike Callahan's dad). She purchased several Limousin females at that sale.
From there, Jerry and Pat purchased a pen of heifers from Mike and Joyce Callahan at the Kansas Beef Expo. The first bull that they bought was a Michelin son from Wies Limousin of Wellsville, Missouri.
Jerry learned how to artificial inseminate (AI) at a class in 1988 and ever since he has been using some of the top sires in their IA program. Over the years they have purchased females for herd building and show projects for their children, Pam and Ben, and their granddaughter, Kaylee Gum.
Some of the breeders they have purchased cattle from include J & C, GV Limousin, "Tubb" & David Ratliff, Ed Slusher, Walt Rolf, Symens Hills, Tom Rooney, Magness Land & Cattle, Coyote Hills, Wulf Cattle, Elmwood, Potterosa, Vorthmann Limousin, Bohi, and Pinegar Limousin. Their herd size has fluctuated over the years. They had a mature cow dispersal in 2000 due to Jerry's hip replacements.
Jerry and Pat have served the Limousin breed in many ways. They have managed the KLBA State Sale for 21 years, Jerry has been the announcer at many Kansas State Fair Limousin shows and Kansas Junior shows. Jerry served as a member of the KLBA board of directors from 1992-1997 and from 2005-2010. He was president in 1994, 1995 and 2009-2010. During two of those terms, Kansas hosted the National Junior Limousin Show and Congress. Jerry has also served multiple terms and several years on the Heartland Limousin Association board of directors.
Pat served on the KLBA board from 1999-2004 and was president in 2001 and 2002. She took over the secretary/treasurer duties for in 2012. In addition, they have also assisted countless 4-H students in the beef program. They were always willing to help anyone in any way they could in the beef program as well as other projects. They are members of the Miami County Livestock Association and have helped put on the Miami County Spring Show in Paola for several years.
Jerry and Pat both agree that the best thing about being involved in the Limousin breed are all of the wonderful people they have met, worked with, and become great friends with.
---
2016
PHIL AND JOYCE SHIPMAN
Phil saw the greatness of the breed when Joyce's father purchased a Limousin bull to use on his Hereford cows. In 1975 Phil's dad purchased a Limousin bull to use on their Angus and Hereford cows. Phil noticed his own herd transform into muscle and greatness. After seeing the results and after much consideration, in 1976 Phil and Joyce decided to join the North American Limousin Foundation. In 1977 they decided it was time to purchase their own herd of Limousin cows. They never turned back or regretted it once.

Phil has served on the Kansas Limousin Breeders Association board several times throughout the years, and Joyce served as the Junior advisor for the Kansas Junior Limousin Association for several years. During that time both were active helping their children Jered, Branon, and Lacey (McCarley). Now a generation later, they are helping their grandchildren show Limousin cattle.

Shipman Cattle Company, located in Girard in southeastern Kansas, has been a big influence in the genetics of the cattle in not only Kansas, but also the surrounding states, as they have been providing quality breeding stock for many years.

At times it is easy to forget what raising and showing cattle is about. It isn't about being known for fitting or being the best with a set of clippers. It is about the people and the friends we make and the unforgettable moments we all share. This couple hasn't forgot what it's about. They are truly very dedicated to the Limousin breed.
---
2014
Mike and Joyce Callahan
Mike and Joyce Callahan were inducted to the Kansas Limousin Breeders Association (KLBA) Hall of Fame on June 7, 2014. Mike and Joyce began their Limousin cattle operation in partnership with Joyce's parents, Art and Liz Jockman, and formed J&C Cattle Co. in 1973.

The Limousin operation started with 9 half-blood cows and heifer calves, and continued to grow with the addition of their first fullblood sire Angus Glen. Mike was an early adopter of Artificial-Insemination (AI) and took a technical course to ensure that the proper genetics were matched for each pair. This work made other producers eager to purchase their seed stock that delivered fast growing calves including many young producers who showed cattle across the state for their 4-H and FFA projects. Cattle that didn't make the cut were sold locally through Stinson's processing plant in Ottawa, KS.

After joining the KLBA and the North American Limousin Foundation (NALF), Mike and Joyce started hitting the show and sale circuit, and were rewarded for their hard work with the Champion Heifer at the World Limousin Futurity in Kansas City in November, 1978. They continued to bring the Limousin breed to new producers and a growing network of Limousin enthusiasts across the Midwest, and actively nominated, tested and sold bulls at the Potwin and Beloit Bull Tests for nearly 20 years.

Mike and Joyce attend shows and sales ranging from the Texas State Fair in the early 1980's all the way to the South Dakota Beef Expo Show and Sale, the Red Carpet, in Sioux Falls. In March of 1983, after growing their herd of fullbood and purebred Limousin cattle to well over 100 head, Mike and Joyce joined with other producers and created an annual Limousin sale in Russell, Kansas. The Land of Ah's consignment sale was a staple event for producers and ranchers in the Midwest, who came for the "functional, eye-appealing" cattle who were "full of muscle and growth." For over 20 years, lots sold at the Land of Ah's were registered with NALF and were required to meet specific maternal and breeding traits, with a focus on low-birth weight bulls, and heifers expected to produce calves with strong growth rates.

As a part of their love of the Limousin breed and livestock, Mike and Joyce spent many years working with producers from across the state to plan consignment and replacement heifer sales, field days, state fair exhibits and state and Heartland events. Joyce served in multiple positions including as a member of the Board of Directors, and President of the KLBA during the early 1980's, a Director and Limousin Breed Representative on Kansas Beef Expo Board (Expo), and served as the Chairman of the Expo's Replacement Heifers Committee in the 1980's. Mike served on the Board of Directors for the KLBA during the late 1970's and again in 2000's, was on the Board of Directors and served as the Chairman of the Kansas Bull Test in the late 1980's, and also served on the Douglas County Livestock Producers Board in the late 1990's through 2005.

Mike and Joyce currently maintain a herd of approximately 130 head which is also augmented by their son's, Wesley, small herd. They continue to enjoy checking pastures, selling halves of beef, working with local producers, and support local cattlemen's associations, including the Douglas County Livestock Producers, the Douglas County Fair and Spring Beefs Shows.

Mike and Joyce look back over their nearly 40 years with the Limousin breed with fondness and gratitude. They are both thankful for their many friends they met through sales, shows, and associations, and sincerely thank the KLBA and its membership for this recognition and honor!
---
2013
Vernon Myers, Debbie and Roman DeLaTorre
Roman & Debbie DeLaTorre and Vernon Myers of Chanute, KS was inducted into the Kansas Limousin Breeders Association (KLBA) "Hall of Fame" during their annual meeting and banquet in Columbus on June 1, 2013. Her love for the cattle and the Limousin breed began back in the late 70's when Debbie's father, Vernon started using Limousin bulls on his herd of Charolais cattle. From there, they switched to a purebred herd of Limousin cattle. In 1983 Debbie and her husband, Roman, bought their first two Limousin heifers. That was the beginning of their herd. Debbie's father Vernon was a director on the KLBA board and it wasn't long before they became active members as well. Their daughter, Kelly, was four when she started going to the meetings and when she was seven, she joined 4-H and KJLBA and started showing cattle on her own.

Debbie became the KLBA secretary in 1987 and took over the position of secretary/treasurer when they combined the jobs in 1992. She served in that position until the past year when she resigned due to Roman's health concerns.

During the time that Debbie was actively involved on the KLBA board, she and her family traveled across the state attending field days, state fair shows, sales and other Limousin events. She said that she met so many people they all became like family and it would be just like a reunion. Their daughter, Kelly, served on the board of the junior association and was treasurer for three years. The money that she earned with the sale of her calf crop helped pay for her college expenses. Although Debbie and her husband no longer have cattle, she continues to be active in the association. She says she has a love for the breed and the members of the association are more than just acquaintances. They are family and she regards them as very special friends.
---
2012
Ricketts Family Inducted into KLBA Hall of Fame
Gerald (Rick) and Carol Ricketts of Clay Center, Kansas were inducted into the Kansas Limousin Breeders Association (KLBA) Hall of Fame. They were honored at the KLBA State Sale in Salina on April 1, 2012 and received a plaque from KLBA president Randy Corns.
The Gerald Ricketts Family Farm, known as Flying R Farms, began with registered Duroc hogs and a commercial herd of cattle. But on October 18, 1979 their world was changed forever by a tornado. They lost all their out-buildings and their farm house was badly damaged.
As they were thinking about rebuilding, Rick and his son, Justin, attended John Crow's registered Limousin cattle sale in Salina. They purchased three bred cows, a bull, and a show heifer. Rick was so impressed by the calves that were born to those three cows that he slowly sold his commercial cows and replaced them with purebred Limousin cows. Rick went to A.I. school and soon they were up to 100 head of purebred Limousin cows. Most of the herd was sold last year to their grandson, Trent Yarrow. For a number of years they sold cattle at the Kansas Beef Expo in Wichita, the Land of Ah's Sale in Russell and the KLBA State Sale in Salina.
Rick and Carol want to give their family a BIG Thank You for always being there to help with the cattle, getting them ready to sell, and at the sales. Their four children live within ten miles of the farm. The family includes Cindy and Brady Rush, Lynda and Dave Reed, Teresa Yarrow, Justin and Kathy Ricketts; nine grandsons, two granddaughters, four great-grandsons with another due in July, and three great-granddaughters. All of the children, grandchildren and older great-grandchildren have been involved in 4-H and FFA. They have shown cattle, hogs, sheep and horses.
According to Rick and Carol, good things can come from a tornado. It gave them the opportunity to meet wonderful Limousin people and raise the very best breed of cattle, Limousin. They would like to thank their Kansas Limousin family for the honor of being inducted in the Hall of Fame.
---
2011
Marvin & Myrtle Jones Member of KLBA Hall of Fame
Marvin and Myrtle Jones, Double J Limousin of Tonganoxie, Kansas were inducted into the Kansas Limousin Breeders Hall of Fame during the Leavenworth county Fair this summer. Katie Campbell of Leavenworth, a member of the NALJA board of directors, made the presentation on behalf of the KLBA.
They were delighted that their son, Jeff and grandson, Adam along with numerous friends and neighbors were in attendance when the award was presented. Marvin and Myrtle stated, "We would like to thank the KLBA for conferring this great honor on us. Never did we dream that our names would be on the same plaque along with other notable KLBA members, We are thrilled!" They bought their first Limousin cattle back in 1974 and they were a founding member of the Leavenworth County Beef Improvement Association. Their son, Jeff and daughter, Gayla, exhibited champion Limousin steers. In addition, the family showed and sold heifers and bulls throughout the state. The Jones family used AI throughout their years of raising cattle. According to Marvin and Myrtle, they were happy that NALF printed a sire summary with highly reliable data that could be used with confidence when making sire selections.
Marvin and Mrytle were instrumental in starting Chris Campbell and family, Rocky Top Limousin, in the Limousin cattle business. Chris was a member of the 4-H club when Marvin served as the leader. Congratulations to Marvin and Myrtle on receiving this prestigious honor.

---
2009
JoEllen Arnold Inducted into KLBA Hall of Fame
JoEllen Arnold of Ottawa, Kansas was inducted into the Kansas Limousin Breeders Association Hall of Fame on Friday, June 5, 2009. She was given a plaque at the Welcome Meal in Ottawa during the Heartland Regional Show.
A graduate from Kansas State University with a degree in Animal Science, JoEllen was hired as a 4-H extension agent in Franklin County in December of 1977. She has continued to coach, empower and encourage 4-Hers for the past 31 years. In 1983 the Arnold family purchased their first Limousin heifer from Ron and Carolyn Holland of Osage City. They became active in the KLBA and the state activities. JoEllen and her brother Brady loved the docile Limousin animals after being brought up in the Dairy business. Jo Ellen went on to become the junior advisor for the KJLBA and she served in that capacity for many years. She encouraged many young Limousin breeders to run for junior offices and she has continued to support young people throughout the years.
Her hobbies include white water rafting and backpacking. She really enjoys the outdoors.
Congratulations, JoEllen, on this well-deserved honor.
---
2008
Gail "Tubb" Ratliff Joins KLBA Hall of Fame
Gail "Tubb" Ratliff, his late wife Lou and their children Teri, Julia, Tracy and David had a very successful farming operation just outside Westphalia. They were involved early on with the Limousin breed in the state of Kansas and were active in a variety of cattle organizations. Gene and Gail along with Ron Holland and Ed Slusher teamed up to host the Sunflower Connection sale from 1982-1984. Elected to the KLBA Board of Directors in 1980, Gail served as an officer for many years. He was also on the NALF Board of Directors for two terms and he was one of the lifetime members of the Heartland Limousin Association.
Gail says that the people in the breed are the most important and he has fond memories of events from the past. He got into Limousin cattle because of the influence of Ron Holland and he has purchased show heifers from Ben and Ruth Price along with Sam and Minnie Finger.
Son, David and his family are now part of the Cherry Creek farming operation. Grandpa Gail can be found at ringside proudly watching a new generation show their cattle. David and Michele's five children are now taking home champion banners with their Limousin Cattle.
The Ratliff's host their annual sale the fourth Saturday in February at the farm just outside Westphalia.
---
2008
Gene and Virginia Raymond Added to the Elite in the KLBA Hall of Fame
Gene Raymond, his father, and brother were engaged in a large farming, hog and cattle cooperation in Anderson County where they reside today. Gene, a K-State graduate, was actively involved in judging throughout Kansas and other state and he also worked as a teacher at the Graham School.
The Raymond family: Gene, Virginia and the girls Diane, Stacy and Kathy enjoyed showing Limousin cattle and participating in events at the county, state and national level.
Gene had been actively involved in the state association. He was elected to the KLBA Board of Directors in 1979 and provided leadership in a variety of offices. He is a lifetime member of the Heartland Limousin Association and a member of the North American Limousin Foundation. Gene served two terms on the NALF Board of Directors and was president in 1986-1987.
According to Gene, What he remembers most about the early days raising Limousin are the fun times they had with other breeders at state events like the Sunflower Expo held each fall in Topeka.
Today Gene and his son-in-law Arne Hanson are busy working cattle at GV Limousin located just outside Garnett. They hold their annual sale the third Saturday in February at the Anderson County Sale Barn.
---
2007
Jim and DeeAnna Corns KLBA Hall of Fame Inductees
Jim and DeeAnna Corns of Altoona, Ks. were inducted into the Kansas Limousin Breeders "Hall of Fame" Saturday, March 31st, 2007 at the annual banquet held in Salina.
Jim grew up with very little farming background, but he had the love for the outdoors and desire to learn what it took to raise a herd of cattle. He taught school and coached football for 15 years, nine at the high school level and six at college. Jim and DeeAnna bought their first farm while he was still coaching. Along with the farm came their first couple of cows. As with every herd, they multiply and before long they were up to ten cows. Jim left the coaching job and spent almost 30 years in the sporting goods business. With this job change, came an opportunity to spend more time at the farm and increase the herd.
In 1978 they purchased a larger farm in Newton, Ks. Jim explored several different breeds before being introduced to Limousin cattle. He was traveling so much that the need for an easy calving herd was necessary. Their son, Randy, had started his teaching career in Baldwin and was fortunate enough to spend time with Limousin breeders, Mike and Martha Christie. In 1968, Randy jumped into the Limousin breed, purchasing his first five cows. He kept his Dad informed of all the happenings and soon was in need of a bull.
With the help of folks like Gene Raymond, Jimmy Linthicum and Gail Ratliff as well as several trips to New Braunfels, TX to visit Floyd McGown, Jim was on his way to the Limousin herd he desired. He participated in bull test and special cow/calf classes at the Kansas State Fair, giving him the opportunity to touch commercial breeders and share his story.
Jim served on the Board of Directors and as president for the Kansas Limousin Breeders Association. He was also one of the people behind the success of the "Limi Drive of 95" summer NALJA show held in Wichita. His dedication and drive shows just what kind of heart he has for the youth of today.
Jim and DeeAnna are both retired and living on the farm in Altoona along with DeeAnna's mother. When they are not working on the farm, they enjoy traveling and spending time at Table Rock Lake in Missouri.
---
2006
Ed Slusher Inducted into Kansas Hall of Fame
Ed Slusher, longtime Limousin breeder from Osage City, Ks was inducted into the Kansas "Hall of Fame" on April 1, 2006 at the annual KLBA banquet in Salina. He is a respected cattleman, businessman, friend, father and grandfather.
Slusher's first experience with Limousin cattle was back in 1972 when he bought an 87% bull from Ron Holland, Vassar, Ks. He traded in a John Deere baler and took in ten half bloods as part of the deal. When he looked over the first crop of calves, he noticed a considerable difference. As the saying goes: "The rest is history…." He has concentrated and focused his program to the commercial bull buyer. Ed sold about 30 head of cattle two years ago, but he is still in the Limousin business with 50 cows. In the early years Ed was busy showing cattle at the state fairs in Kansas and Missouri as well as at the Sunflower Expo. He and his wife Mina hosted a couple of field days at this farm. Ed was participant in the Sunflower connection Sale, one of the first Limousin sales in the state.
He has been very active at all levels in the Limousin breed. Ed served for two terms as a NALF director in the 1990's was president of the KLBA for two terms and also a member of the board of directors, and he is a lifetime member of the Heartland Limousin Association. In addition, Slusher has served as president of the Rural Water District and treasurer of the Soil conservation Watershed District.
Ed spent eight years in the Air Force. He was a John Deere dealer, leaving that job in the mid 1980's. He was also involved in the used machinery and auction business for the next 15 years. Slusher has been retired from that business for approximately five years
His family includes four children: Karen, Mary, Susie and Chuck, eleven grandchildren and one great grandchild. His future plans include taking trips on his silver Honda Goldwing Trike (a three wheeler touring bike). Ed is looking forward to visiting Ohio, Virginia and the 4-Corners area of the United States this year. Next year he plans to tour Oregon and other parts of the Northwestern United States.
---
2005
Holland's Inducted into Kansas Hall of Fame
Ron and Carolyn Holland, Vassar, KS were inducted into the Kansas "Hall of Fame" during the Kansas State Fair in Hutchinson, Sept. 15, 2005. They are the third Limousin breeder to receive the prestigious honor.
In 1970 the Holland's, following the advice of H.A. McCoy, artificially inseminated a set of black feeder heifers to Prince Pompadour. As a result, they became interested in raising registered Limousin cattle. They attended their first National Western Stock Show in Denver, CO in January of 1971. They purchased 3, ½ blood heifers ready to breed there as well as traveling to South Dakota and Iowa, buying additional heifers bred to Limousin. They purchased their first full French bull, Jon Darme, a son of Gendarme in 1974.
The Kansas Limousin Breeders Association was formed in February of 1974 and Ron served on the Board of Directors for four years as President and Secretary/Treasurer.
Carolyn served as corresponding secretary until the 1980's. They helped make a traveling booth, held two field days at their ranch, and showed cattle at the American Royal, Kansas State Fair, the Missouri State Fair, the Sunflower Expo and numerous field days. Ron also served for three terms on the North American Limousin Foundation's Board of Directors. He currently serves as the Beef Superintendent at the Kansas State Fair.
The Holland's went into partnership with Midwest Cattle Company and expanded the full French breeding of the Limousin program. All of the full-blood cattle were carried under this prefix. For three years, in 1982-85, they held the Sunflower Connection sale at their ranch along with Gail Ratliff, Gene Raymond and Ed Slusher.
They cut back on their Limousin herd when Ron began to have health problems.
They are deeply indebted to their Limousin cattle for providing enjoyment in those "golden years". They are enjoying their herd of six cows as well as all the folks in the Limousin breed.
---
2004
Ben and Ruth Price 2nd Inductees into the KLBA Hall of Fame
Ben and Ruth Price, Reading, Ks. were inducted into the Kansas Limousin Breeders "Hall of Fame", Saturday, August 20th, 2005. The Price families have been longtime Limousin breeders and one of the founders of the North American Limousin Foundation.
The history of Ben and Ruth Price goes back to May 17, 1968 when they attended the second meeting of a group of excited Limousin enthusiasts in Denver, CO. and formed a new organization known as NALF. Ben was elected to a one-year term on the NALF Board of Directors. Ruth served two terms on the NALF Board of Directors from 1977-1982. She is the only woman to date that has served on this board. The partnership of Price/McCoy holds the NALF number 12.
Ben and Ruth, with the help of their children Brian, Bruce and Cynthia and the late H.A. McCoy, partner, held the first Limousin production sale in Kansas. Ben and Ruth, along with their family, were instrumental in the foundation of the Kansas Limousin Breeders Association. Ruth served for several years as the president of the association.
The Price family attended farm shows, 4-H fairs; state fairs, livestock conventions and events, and promoted the youth sho0wing Limousin steers and heifers. They traveled to many other state's cattle functions, and always made it to the National Western Stock Show, Denver, CO.
Prairie Chief became the primary herd sire at Price Limousin. He was on display at the first Kansas Field day at the Finger Ranch. Prairie Chief is in the background of most cattle in Kansas and other surrounding states.
Ben and Ruth Price have been pioneers of the Limousin Breed and have enjoyed the excitement of the beginning of Limousin cattle in the United States.
---
2003
1st Inductees to the KLBA Hall of Fame are Sam and Minnie Finger
Thank you for the effort, cooperation, and insight you have put forth to build and strengthen the Limousin breed of cattle in North American and the State of Kansas. Thank you for the endless tasks, donations and contributions you have performed to develop, maintain and expand the Kansas Limousin Breeders Association. Thank you for all the support you have given the Kansas Junior Limousin Breeders Association. Thank you for all the work, fun, friendships, and pride you have provided to all of us. This plaque serves as an award and a reminder for the excellent quality of Limousin cattle you have produced and the excellent quality of life you exhibit. (John Crow KLBA Board of Directors presented the plaque to Sam and Minnie at their home in Powhattan, Kansas he taped the presentation and then played the tape at the KLBA Annual Meeting Banquet on April 2nd)
How appropriate that Sam and Minnie Finger should be honored as the First inductees into the KLBA Hall of Fame. The have both been involved with the Limousin breed since, its introduction into the US in the middle 70's. Sam and Minnie were at Emporia for the organizational meeting of the KLBA, displayed cattle at the first Kansas Field Day and bred the ¾ steer that was the Grand Champion at the second Field Day. Steers and heifers bearing their tatoo continued to reach the winner circle all over eastern Kansas.
Minnie was always there to do her part and more, serving as Secretary/Treasurer of the KLBA for many years, handing out ribbons, working at the booth, collecting data and payouts for show results and sales. Sam doesn't say much but when he did, people listened, as Sam knew his cows and a good one. He was always there to help in any way he could. They successfully traveled the show circuit, the SHFS tattoo getting many a nod from the Judge. If you owned an animal bearing this tatoo they would be a good one.
Their son, Keith and daughter in law Kathy assisted and supported their parents in their efforts to make the Limousin breed stronger and what it is today. They managed to be at the KLBA functions even though they resided in Denver.
Sam and Minnie have been dedicated breeders and hosts, being active in the association on the State and National level. As the old adage goes they both took the bull by the horns and charged down the court to accomplish a lay up of memories for themselves, family and their many friends.