COMMERCIAL PRODUCERS

2018
SUTTON 5 S CATTLE COMPANY
Grenola, KS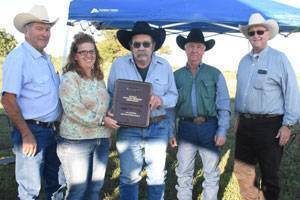 Sutton 5 S Cattle Co. Awarded the KLBA Commercial Producer of the Year
The Sutton Family, Sutton 5S Cattle Co. of Grenola, Kansas were selected by the Kansas Limousin Breeders Association (KLBA) the recipient of the 2018 "Commercial Producer of the Year" award. The award was given to the family on September 22, 2018 at the KLBA Social near Fort Scott, Kansas.
Ed Sutton began buying Limousin bulls in the mid 1980's, and he bought his first group of Limousin heifers in 1988 from GV Limousin at Garnett, Kansas. He has purchased Limousin bulls every year since then for his 470 black based cowherd which grazes on nearly 4,000 acres of ranch land near Grenola.
Ed's wife, Coco, was a federal veterinarian with the USDA. She felt that the Limousin cattle did more to correct deficiencies in a cow than any other breed. She passed away in 2010 and since then, Ed and his daughter Robyn operate the ranch. They continue to handle the cattle in the traditional way. They like the muscle that Limousin provides and the profitability of the calves.
The strong bond of relationship between the Sutton family and GV Limousin, and goes beyond just the good customer service from Gene Raymond and his family. It has evolved into a personal friendship between Ed, Gene and the families. The Suttons have continued their business and personal relationship with GV Limousin for over 30 years.
Congratulations to the Sutton Family, 5 S Cattle Co., for this well deserved honor!
---
2017
WAYNE & KENT GRIMM & FAMILIES
Summit Farms, Morrill, KS
Wayne and Kent Grimm and their families, Summit Farms of Morrill, Kansas were named by the KLBA as the recipients of the 2017 "Commercial Producer of the Year."
Wayne and his brother, Kent own and operate a rock quarrying operation in the northeastern part of Kansas along with grain farming and raisin livestock. Wayne is in charge of the livestock and Kent runs the grain operation. Wayne oversee the calving of the 550 Limousin cowherd as well as an additional 75 Angus cows.
They feed out their production at their farm and market them as natural, hormone free cattle. Their neighbor also utilizes their feedlot, placing an additional 50 head managed by Summit Farms. The Grimm brothers emphasize structure and fertility in their fed cattle operation.
For several years, the Grimm family has produced fed cattle for Laura's Lean Beef. They now focus on the natural market, with an increase in growth and marbling. They use their own bulls to breed the spring bred cows. The fall herd cows are heat cycled, synchronized and then embryos are placed in recipient cows followed by exposure to their bulls for 45 days. Wayne appreciates the ease of calving, growth and increased docility of Limousin.
---
2012
Johnson Family Named KLBA 2012 Commercial Producer of the Year
The Bernie Johnson Family of Assaria, KS, was named the 2012 Commercial Producer of the Year by the Kansas Limousin Breeders Association. The Johnson's were awarded their plaque at the KLBA sale in Salina on April 1, 2012.
Bernie and his wife Robin along with their children Sydney, 16 and Toby, 12 operate a commercial herd of 180 English-based that calve in the spring at their ranch near Assaria. Raised in a predominately Hereford operation with his grandfather and father, Bernie began to use continental sires on the herd in the mid 80's. The Johnson's settled in on Limousin bulls exclusively because of the hybrid vigor of the calves and the ease of calving and performance.
The Johnson's continue to improve their calf production and have changed to a predominately black-hided feeder calf because of the easier marketing ability. Bernie has also added Lim-Flex bulls to his bull battery.
They purchased bulls at the KLBA sale in Salina from various Limousin breeders including Pine Tree Acres, Beikman, Blazin K, Callahan's, and Leishman. Bernie feels that the bulls brought to the KLBA Sale in Salina are very consistent and a good value for his program.
The Johnson's row-crop corn silage, hay for feed, and have developed a ration for their herd. They wean their calves in October and sell them at the Farmers and Ranchers Sale barn in Salina in November and routinely are at the top of the market for their calves.
Congratulations to the Johnson Family.
---
2011
2011 KLBA Commercial Producer Paul Jones-"Conception to Consumption" Program
Paul Jones of Hays, Kansas was named the 2011 Commercial Producer of the Year by the Kansas Limousin Breeders Association. The award was given at the KLBA sponsored consignment sale in Salina, Ks on April 3rd, 2011. Dave Braun of Victoria, Ks nominated the Jones operation.
The Jones' operation consists of Paul Jones Sr. and Paul Jr. who operate a 200 head black and black-baldy commercial cow herd 40 miles southwest of Hays. The purchase 50 to 75 percent Lim-Flex bulls to complete what they consider to be the best three-way cross for their program. Paul Jr. explained that they like to use Limousin bulls for their growth, stretch, yield and hybrid vigor.
They operate a "conception to consumption" program, an all natural and source verified brand (Ranch Raised Beef) in a vertically integrated marketing program, selling their product through their own meat market in Hays. using their cow herd production, they feed out their calves an average of 140-150 days and harvest them at the Ellenwood, Ks. packing plant. The boxed beef is then shipped to Hays for processing and packaging the retail product for sale at their Hays City Quality Meats market.
In addition to their Ranch Raised Beef operation, the Jones also background 600-700 feeders up to 800 lbs and market them through the LaCrosse, Ks. sale barn. They have 1800 acres of wheat and 800 acres of row crop. Paul Jr. is a dentist in Hays. he and his wife Elodie have tow daughters, ages 16 and 9. Congratulation to Paul Jones upon receiving the Commercial Producer of the Year award.
---
2010
2010 Kansas Commercial Producer Proves Power of Limousin
Ken, Judy and Kent Schade of Crow S. Ranches, Olpe, Ks received a plaque honoring them as the 2010 KLBA Commercial Producer of the Year. They received this award at the KLBA State Sale in Salina on April 11th.
The Schades not only believe in Limousin influenced cross-bred calves, they have proven how valuable their calves are for the industry. Each year they enter two pens of steers and heifers into the Flint Hills Beef Carcass contest and they have won top honors two times.
They bought their first Limousin bull in the early 90's from Gene Raymond and Arne Hansen. They have purchased GV genetics every year since then to use in their cross-breeding operation on 125 stock cows that they run on over 1200 acres. Their foundation herd was Hereford-Angus crossed cows but now contain a fairly high influence of Limousin. They also run 125 yearlings on the Flint Hills grass, selling them in August of each year. They retain 25 of the top heifers as replacements.
Ken cites the strengths of Limousin as his reason for success. Muscle and calving ease are his priorities and he said improved docility is a positive step forward. Congratulations to Crown S Ranches!

---
2008
Damon and Brian Stauffer named KLBA Commercial Producer for 2008
Damon and Brain Stauffer of Arlington, Ks were named the 2008 Commercial Producers of the year by the Kansas Limousin Breeders Association. The Stauffer's received their recognition at the KLBA annual banquet in Salina, Ks. April 5th. The Stauffer's were nominated by Liberty Ranch of Plainville, Ks for this honor.
The Stauffer brothers run a 400 head Angus based spring calving herd as well as a small fall calving program. Their father, Craig, purchased his first Limousin bull in 1995 on his way to an Angus bull sale. he did not make it to the sale: instead, he purchased Limousin bulls after viewing the bull crop at Liberty Ranch.
they were impressed with their purchased Limousin crossed calves they were running on wheat pasture and decided to use the Limousin genetics on their own herd. The Stauffer's liked the calf crop and they have continued to use Limousin genetics on their commercial herd ever since. According to Brian, "Hybrid vigor and performance work very well for them."
the Stauffer's continue to background their calves on wheat pasture and market them at sale barns in southwestern Kansas as well as northwestern Oklahoma. They utilize the Pratt, Ks livestock exchange on a consistent basis.
In addition to their cow/calf operation, the Stauffer's farm 7,000 acres of wheat and corn. They also operate a livestock hauling company called Stauffer Trucking.
Congratulations to Damon and Brian Stauffer.
---
2007
Leland Richards named 2007 KLBA Commercial Producer
Leland Richards and his wife, Nancee and their son, Doyle were honored as the 2007 Kansas Commercial "Producer of the Year". They were presented a plaque before the Kansas Limousin Breeders Association Spring Sale in Salina on April 1st.
The Richards farm over 10,000 acres just west of Salina in the Brookville area. They have used Limousin bulls for 20 years, and every bull they have purchased has come from the state of Kansas. They run a commercial herd with 500 momma cows and 20 plus Limousin bulls.
Leland said that he likes the calving ease of Limousin bulls and their longevity. He also appreciates the calf vigor and performance of the Limousin-crossed calves.
In addition to their cattle operation, the Richards also farm 1,000 acres of wheat, 900 acres of prairie hay, 200 acres of Milo, 150 acres of alfalfa, and 100 acres of Sudan. The also do custom haying and combining.
Leland and Nancee have two sons and four grandchildren. Doyle works on the family farm and their other son, Darin, lives in the area and also raises cattle. Congratulations to the Richards family!
---
2006
Shilling Brothers of Westphalia KLBA 2006 Commercial Producer of the Year
Greg and Ron Shilling of Westphalia, Ks. were named KLBA 2006 Commercial Producer of the year in April. They have a commercial herd of 300 high-percentage cows. They are one of a few producers who have a calf-to-finish operation.
The Shilling Brothers started in the late 70's with an Angus-Holstein crossed-herd of cows and ten Charolais from their father Willard. They began using Limousin bulls on their herd in 1979. They purchased bulls from Ratliff's Cherry Creek and Bill Pracht. All of their cows are naturally serviced. The Shillings retain their heifers for use in the herd. Their herd is two-thirds red and one-third black.
Greg absolutely despised yield grade 4's He is happy with the Limousin influenced calves, which he and Ron sell to Tyson at Emporia. They average around 45% choice and will yield 65.5% carcass. Those figures guarantee them a premium in the mainstream market. They feed corn to finish a 900 lb. Hanging carcass. When asked why they like Limousin calves, Greg responded, "Our cattle yield keeps us in Limousin."
---
2005
KLBA Selects Frohberg Family 2005 Commercial Producer of the Year
Don and Kelma Frohberg, Waterville, KS along with their son, Doug have been selected as the 2005 recipient of the Commercial Producer of the Year, awarded by the Kansas Limousin Breeders Association. Ed Slusher of Osage City nominated them for this award. Dean Summerbell, Executive Secretary of the Heartland Limousin Association presented them with a plaque at the annual meeting and banquet in Salina, KS on April 2, 2005. Frohberg has purchased Limousin bulls for over 20 years. He calves in the spring, then backgrounds the calves and sells them as yearlings in Manhattan. The goal is to produce good lean beef, sell a quality product and one that is in demand when it is ready for the finishing lots.
Don synchronizes the heifers and splits them in different bull pens. He always pelvic checks heifers for replacement. When selecting sires, Don utilizes the advice of Ed Slusher to match the bull for his herd and one that will make the most improvement. Don stresses that a bull must have good feet and also be a calving ease bull. Since using Ed's bulls, Frohberg's weaning weights and calving ease has increased significantly. The assistance for heifers has been reduced. In addition, he also purchased a foundation cow from Slusher and now has about 25 cows in his herd that go back to those early genetics. Major improvements have been made in yearling weights and feed efficiency. Don particularly likes the meatiness and thickness of the Limousin cross calves. As an added bonus, he has found that the salvage value of Limousin bulls is higher than other breeds.
Don has been a member of the local Co-Op board, county Soil Conservation District and the KLA. Congratulations to the Frohberg family! Their name will be submitted for the National Commercial Producer of the Year award. It is presented during the Pen and Carload show in Denver in conjunction with the National Western Stock Show in January by the North American Limousin Foundation.

---
2004
2004 KLBA Commercial Producer of the Year
Mike Becker of the Diamond B Ranch, Russell, Ks. was named by the Kansas Limousin Breeders Association the 2004 Commercial Producer of the Year. The award was presented on April 3 at the annual Kansas Limousin breeders Association Banquet in Salina. Dean Summerbell, Heartland Executive Secretary, gave the award. Mike has used Limousin bulls since 1972 to breed a set of half-blood heifers that he got from South Dakota. He has raised and sold many Limousin crossed club calves. He owned the old Colonel bull that was shown in Denver on the Red Carpet. He runs approximately 600 cows, mainly calving in the spring. He used Cutler Cattle Co. of Scott City to feed his claves. He markets his calves in the fall using the Pfizer Select Vac program to precondition his cattle. Mike Smith, Liberty Ranch nominated Diamond B Ranch for the award.

---
2003
2003 KLBA Commercial Producer of the Year
The KLBA 2003 Commercial Producer of the Year was presented to John and Donna Tersinar of Farlington, Ks. The plaque was presented to them at the KLBA Annual Banquet in Salina; Ks. by Dean Summerbell of the Heartland Limousin Association. They purchased their first Limousin bull in 1978 from Earl McColm. Currently they run a commercial herd of 130 cows using six Limousin bulls. The calves are backgrounded and sold as yearling at the Fort Scott or Parsons livestock sales and usually top the market. Of the 720 acres of land that they own, 120 acres are used for raising wheat and soybeans, and the rest is in pasture or hay. The Tersinar Farms began in 1875 by John's great-grandfather. Today John and his son, John Allen and his wife, Lori and their sons Drew and Tanner operate the farm. The received the Farm Bureau Century Farm award in 2001. John and Donna were nominated by Phil Shipman of Shipman Cattle Company of Girard, Ks.